Frozen food chicken wings packaging machine
Packaging Case Background:

The customer is a frozen chicken product production company, which is located in Kazakhstan. At first, they are looking for a machine to pack frozen chicken feet, later they will pack sell the rest of the frozen chicken body parts. So the machine they request should be applicable for both these two kinds of product. And our 7L 14 Head Multihead exactly can meet their requirements.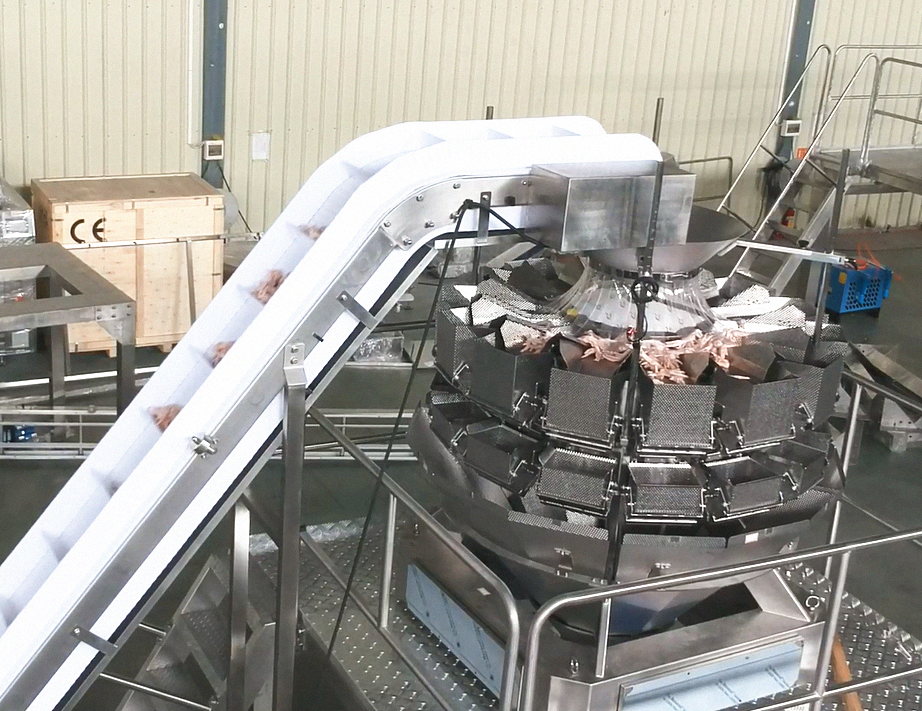 Besides, the size of their frozen chicken products is quite large, which can reach 200mm in length. And the target weight per carton is 6kg-9kg, which is also a heavyweight. Only our 7L 14 Head Multihead Weigher can load this weight by using the 15kg load cell. The customer's package type is the carton, therefore, we did a semiautomatic packing system for him.
We equip a horizontal conveyor and a foot panel switch below the Multihead Weigher to place the carton so that the carton can be filled with the chicken product with target weight one by one. In the aspect of connecting other machines, our machine can offer good compatibility, which is also the main factor that the customer considers. Before our machine, there is a cleaning machine, a machine which can add salt, pepper, and other condiments, a vacuuming machine, and a freezing machine.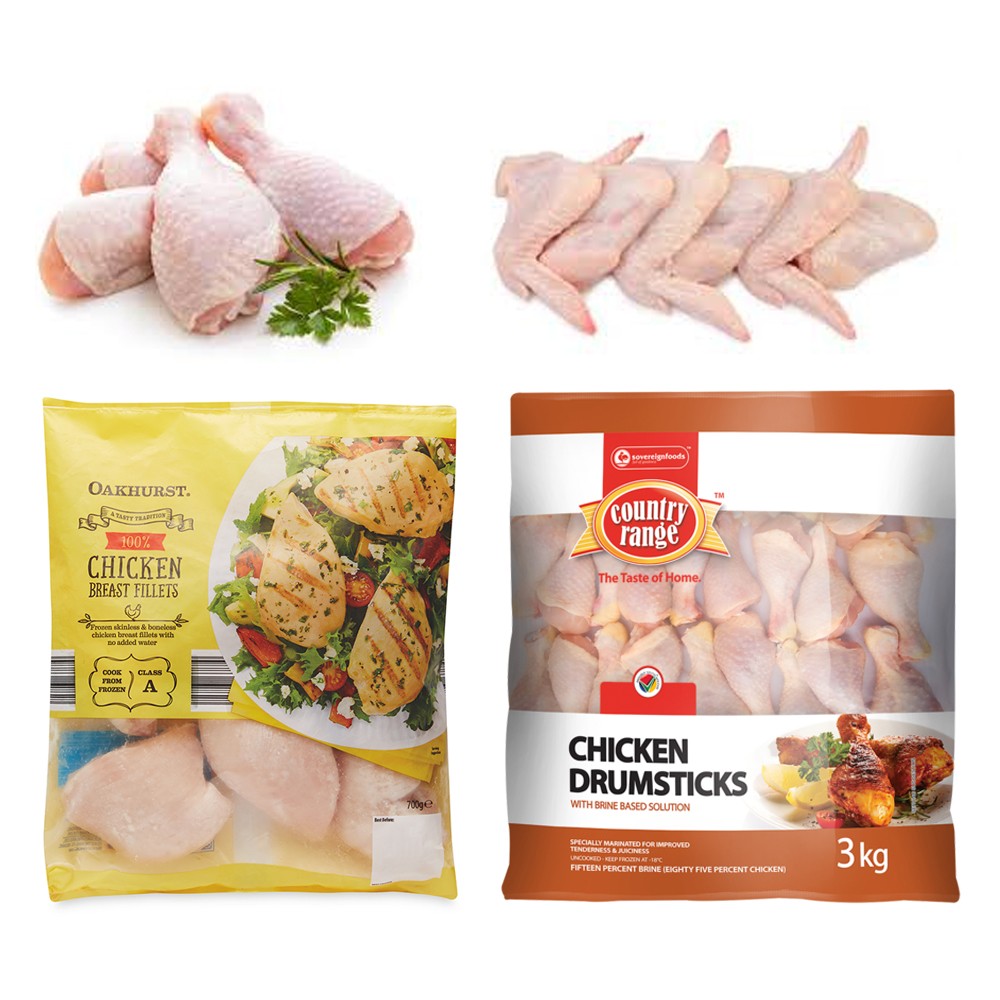 After the chicken product has been frozen, it can be filled into our conveyor to be conveyed to the top of Multihead Weigher to be weighed and then packed.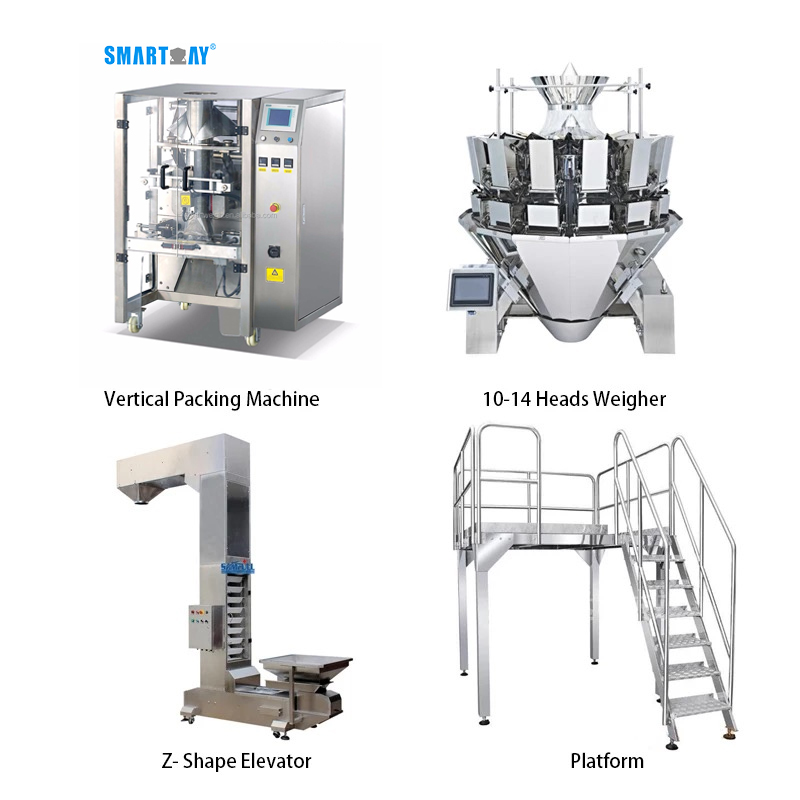 1. Incline Conveyor
2. 7L 14 Head Multihead Weigher
3. Supporting Platform
4. Horizontal Conveyor to Place the CartonApplication:
1. It is applied to weigh and pack fresh or frozen product with the feature of large size or heavy weight, for example, fried chicken, frozen chicken feet, chicken legs, chicken nugget and so on. Except for the food industry, it is also suitable for the non-food industries, such as charcoal, fibre, etc.
2. It can integrate with many kinds of packing machine to be a fully automatic packing system. Such as vertical Packaging Machine, Premade bag Packing Machine, etc.
| | |
| --- | --- |
| Machine | Working Performance |
| Model | SW-ML14 |
| Target Weight | 6kg, 9kg |
| Weighing Precision | +/- 20 grams |
| Weighing Speed | 10 cartons/min |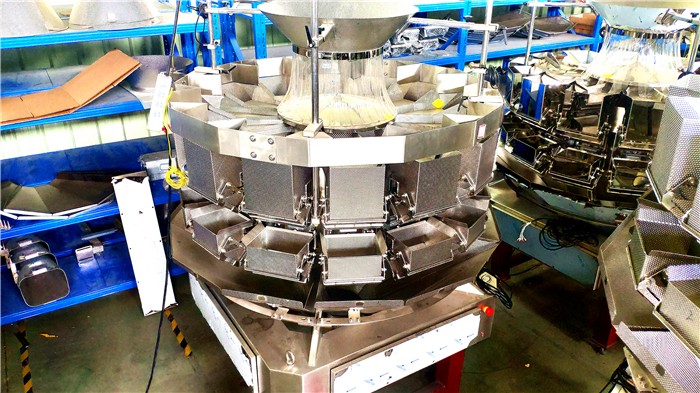 1. Strengthen the thickness of the storage hopper and weigh the hopper, make sure the hopper is strong to support when the heavy product is dropped.
2. Equipped with a SUS304 protection ring around the linear vibration pan, which can eliminate the centrifugal effect caused by the main vibration pan working and protect the chicken product from flying out the machine.
3. IP65 high waterproof grade, use water cleaning directly, save time while cleaning.
The whole frame of machine is made by stainless steel 304, high rust-proof.
4. Modular control system, more stability and lower maintenance fees.
5. Production records can be checked at any time or downloaded to PC.
6. Food contact parts can be dismantled without tools, more easier to be cleaned.
6. Multilingual touch screen for various clients such as English, French, Spanish, etc.