Automatic Chicken Paws Packing Machine In Tray
Smart Weigh Pack developed a new fresh chicken feet auto weighing packing project, whose speed up to 40-45 trays/min ( 40-45x 60 minutes x 8 hours = 19,200 -21,600 trays/day). About this project, the main challenge are speed and press problem.
Frozen Fresh Meat Turnkey Solution for tray Packaging Line▼
Client's output is large, In order to meet client's high speed requirement, we design a new 3L 24 head multihead weigher with two layer of linear feeder pan,which is good in feeding the chicken feet. Good feeding, better accuracy!
| | |
| --- | --- |
| Product | chicken feet |
| Target weight | 2kg |
| Accuracy | +-3g |
| Package Way | tray |
| Speed | 40-45 bottles per minute |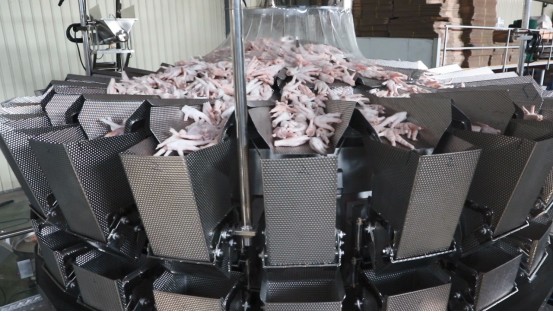 1.Automatic sending the material by elevator to the weighing machine, speed adjustable.
2. 10 heads or 14 heads multihead weigher is choosed according to different needs. Smooth or Dimpled buckets can be chhosed, bucket size can be 1.6L, 2.5L,3L, single door bucket or double door buckets. Some may need to add the timing hopper too.
3. The level belt conveyor will automatic sending the tray (Tin, Can, Bottles, boxes, containers ) and stop to the place where the multihead weigher will drop the weighed products into it one by one. After the filling, it will be sent away one by one to other places.

4. Fully automatic, save labor.
5. The level belt conveyor size made according to real need. So please tell us your container size in detail.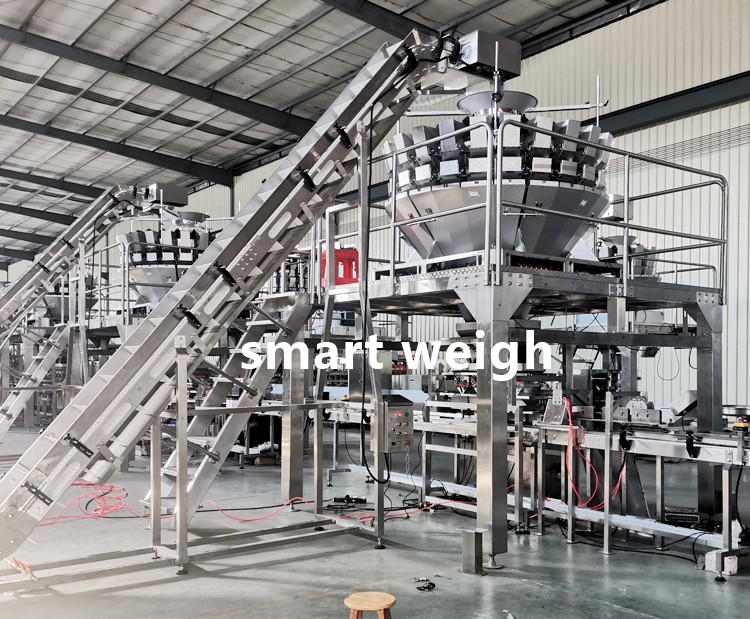 In the initial stage, we use vibration way, but fail. Finally, after many attempts, we adopt a press way(top-down) to reduce the chicken feet's volume, and it works.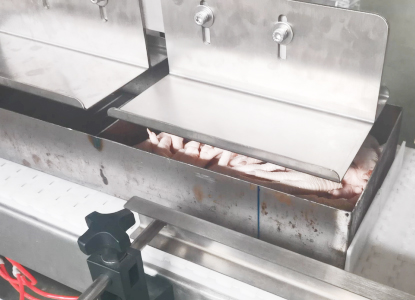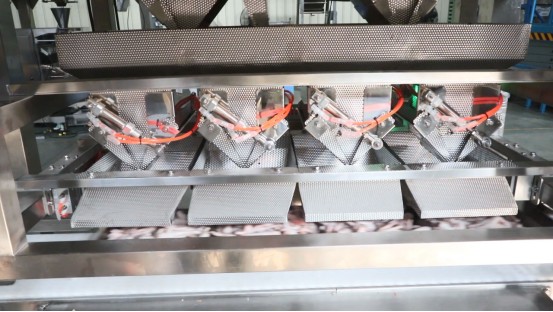 Incline Conveyor: auto lift
24 head multihead weigher: auto weighing
Working platform: support weigher
One point four device:auto filling(each time four trays)
Flat conveyor: convey the trays
1. Suitable item. Food item like ready meal, meat, fish, sausage, cheese, fruit, vegetables,salad, cooked food etc.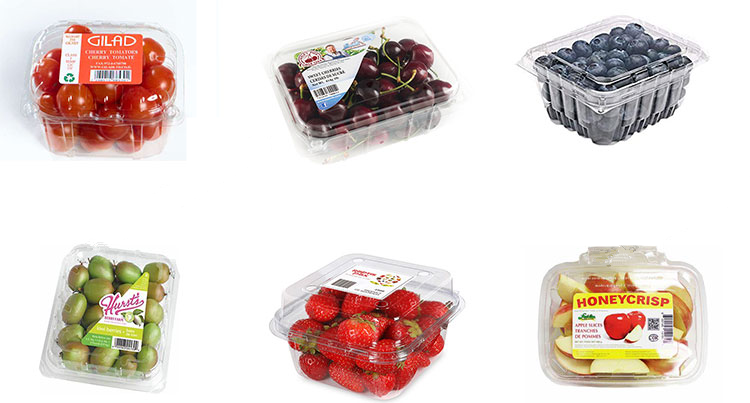 2. Tray size. Machines are customized accordingly to client tray size/shape. Above is just for reference.