Automatic Snack Chocolate Candy Biscuits Jar Production Packing Line with multi head weigher
Professional hard candy counting packing jars filling machine packaing equipment Production Line
1. Equipped with safety protection, comply with firm's safety management requirements.

2. Flexible applications for Grain, Granule, or Granules mixing liquids materials Bottling or Canning by change different dosing equipment. Granule and Grain products dosing by Multi-heads scale or Liner scale. Liquids products dosing by Piston filler or Pump.
3. Use PLC Servo System and pneumatic control system and super touch screen to compose the drive control center which maximize the whole machine's control precision,reliability and intelligentized level.
4. Touch screen can store the technical parameters of various kinds of products ,it is unnecessary to reset while products
changing.
5. With error indicating system , which help to handle the trouble immediately.
6. Available to connect with the Capping machine, check scale, Labeling machine and cartoning machine to get the whole bottles or Cans packaging line.
7.All parts and assemblies coming in contact with powder are made of S.S.304 and easily removable for maintenance changeover.
8.NO CAN, NO FILL" System eliminates wastage of costly powder,only when can in place then filling start.
9. Can Feeding was controlled by servo system featured with stable performance and accurate positioning.
10.Powder Filling system was controlled by servo system with adjustable filling speed set and high accuracy
This automatic filling weighing and packaging machine is suitable for packing granule, slice, roll or irregular shape materials such as candy, seed, jelly, fries, coffee granule, peanut, puffy food, biscuit, chocolate, nut, yogurt pet food, frozen foods, etc.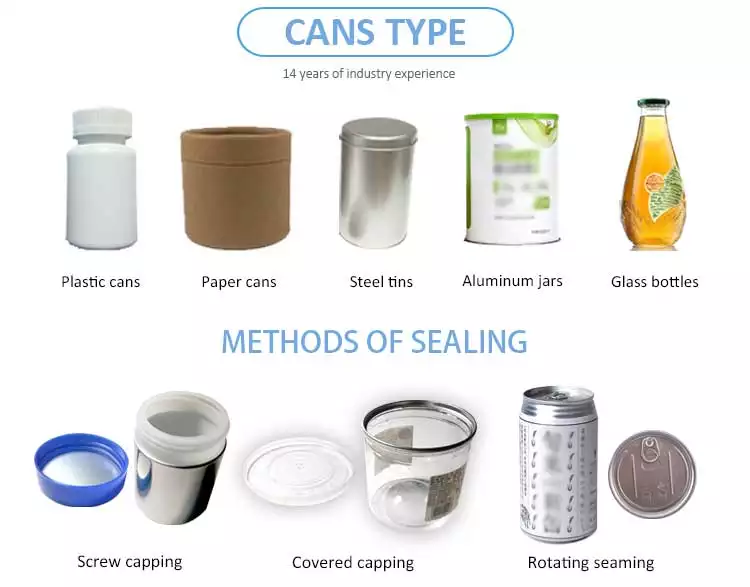 Automatic Snack Chocolate Candy Biscuits Jar Production Packing Line with multi head weigher