Fully automatic linear tray filling vacuum gas flushing packing line for ready meal
Fully automatic linear tray filling sealing machine can auto loading the empty trays, empty trays detecting, auto quantitative filling product into tray, automatic film pulling and waste collecting, auto tray vacuum gas flushing, sealing and film cutting, auto ejecting the finish product to conveyor. Its capacity 1000-1500trays per hour, suitable for the foods factory production needs.
Whole machine made by stainless steel 304 and anodizing aluminum, ensure it can run on bad food factory environment which has damp, steam, oil, acidity and salt etc. its body can accept the water rinsing clean.
Using high quality imported electrical parts and pneumatic parts which ensure the stable running in long time, reduce the stop and maintenance time.
Model

SW-2R-VG

SW-4R-VG

Voltage

3P380v/50hz

Power

3.2kW

5.5kW

Sealing temperature

0-300℃

Tray size

L:W≤ 240*150mm H≤55mm

Sealing Material

PET/PE, PP, Aluminum foil, Paper/PET/PE

Capacity

700 trays/h

1400 trays/h

Replacement rate

≥95%

Intake pressure

0.6-0.8Mpa

G.W

680kg

960kg

Dimensions

2200×1000×1800mm

2800×1300×1800mm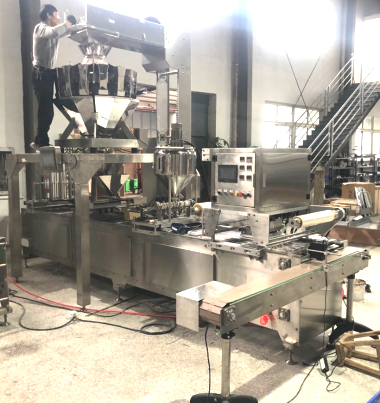 1.Driven system: servo motor with gearbox for the tray molds stepping running, it can move filled tray very fast but avoid material splash because servo motor can start and stop smoothly, and also high positioning accuracy.
2. Empty tray loading function: it using spiral separating and pressing technology which can avoid the tray damage and deforming, it has vacuum sucker which guide the tray enter into mold accuracy.
3.Empty tray detecting function: it use photoelectric sensor or optical fiber sensor to detect the mold have or haven't empty tray, it can avoid the mistake filling, sealing and capping if the mold without the trays, reduce the product waste and machine cleaning time.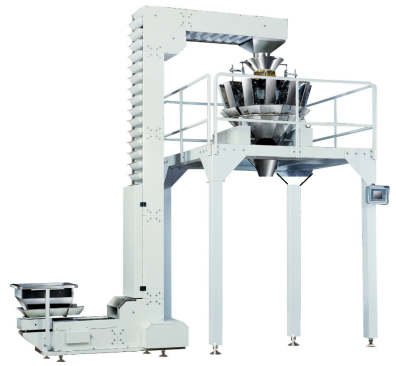 14heads weighing dosing syste
4. Quantitative filling function: multi-head intelligent combined weighing and filling system is adopted to carry out high-precision weighing and quantitative filling for various shaped solid materials. It is convenient and quick to adjust and has small error in gram weight. Using servo drive material distributor, accurate positioning, small repeat position error, stable operation
5.Vacuum gas flushing system: it makes up by vacuum pump, vacuum valves, gas valves, air release valve, pressure regulating valve, pressure sensor, vacuum chambers etc. it pumping out air and injecting gas to extend the shelf life.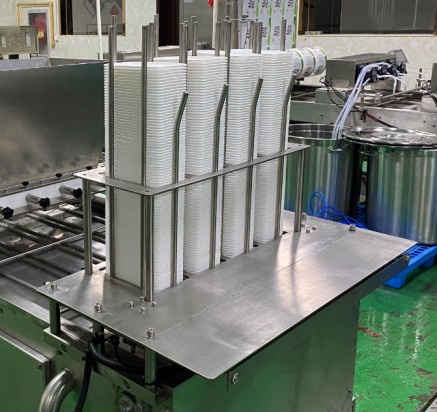 6.Roll film sealing cutting function: The system consists of automatic film drawer, printing film location, waste film collection and thermostat sealing system, sealing system can runs fast and locates at the printed film accurately. Thermostat sealing cutting system uses Omron PID temperature controller and sensor for high-quality heat sealing
7.Discharge system: it makes up by tray lifting and pulling system, ejection conveyor, the packed trays lift and push to conveyor fast and stable.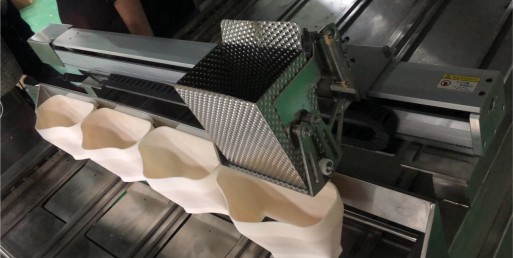 8.Automation control system: it make up by PLC, Touch screen, servo system, sensor, magnetic valve, relays etc.
9.Pneumatic system: it make up by valve, air filter, meter, pressing sensor, magnetic valve, air cylinders, silencer etc.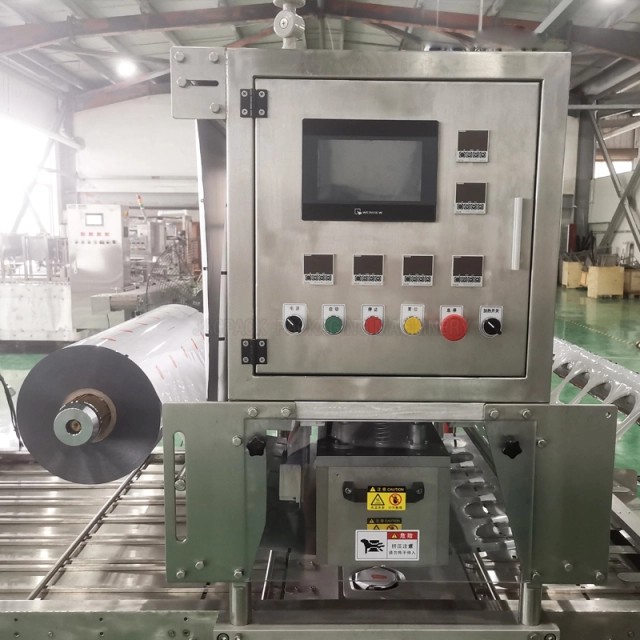 Vacuum gas flushing sealing cutting device
Flow chart of packing: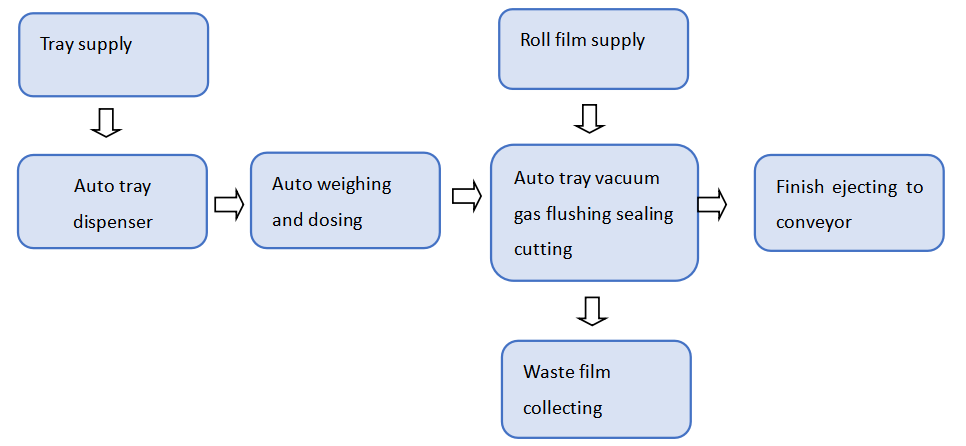 Samples:
It is widely applicable to trays of various sizes and shapes. The following is part of the packaging effect show