SmartWeight 18 head linear combine weigher premade bag packing line
Premade bag packing line with 18 head linear combine weigher machine packaging into flat bag,zipper bag,stand up pouch and carton,box,bucket etc .
"I have require of bag and carton packaging ,can it be packing in a same project ?"Smartweigh company receive inquiry of frozen sea food packing require from Netherland customer.The specialty of this packing line is ,we can tackle bag packing and carton packing in one packing line which is high save space and cost .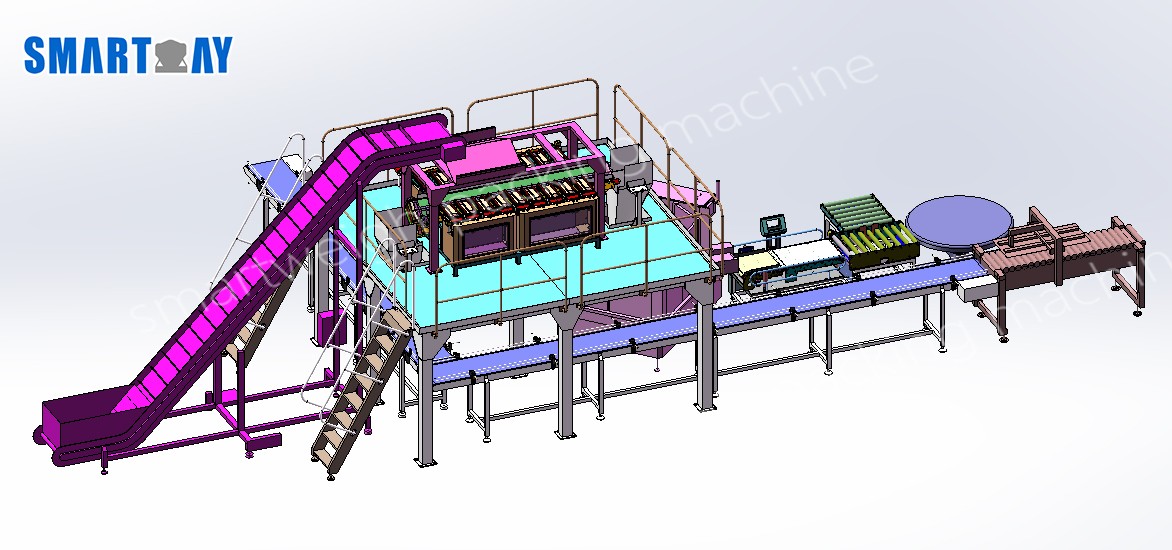 18 head linear combine weigher with anti-slip belt into "V"shape to make fish/fillet coated with ice dropping smoothly from main belt of linear weigher into rotary packing machine .We can setting on the control panel of linear combine weigher and make it running forward or reverse.(running forward is for bag packaging while running reverse is for carton packaging) which is a cost effective packing system for all kind of sea food such as frozen shrimp,frozen fillet ,frozen fish,frozen squid etc .
At the end of the packing line we equip with a carton/box sealing machine .Carton auto flow into sealing machine and sealing the box .You can also connect with labeling and printing machine to auto stick label and printing date on the pack .
Pls note that ,at this packing line we have to consider one question-if frozen fish coated with ice at the surface of seafood ,we have to protect it from broken in the whole processing of weighing and packing .Our solution for this is to put soft silicone on food contact part to minimize the broken rate .
This premade bag packing machine and carton sealing packaging line integrated material feeding,weighing,date printing and bag and carton sealing in one line .One 18 head linear combine weigher weighing all kind of sea food ,filling into bag and carton according to your need .